1903? b. 15th. June in Piatra Neamţ, Romania; the son of a timber manufacturer.
   Romanian Painter and Sculptor . Pink White Boot - Maurice Nadeau.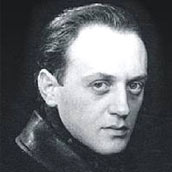 Attended elementary school in Vienna and later National School of Fine Arts in Bucharest
   Dismissed by Bucharest Beaux arts for scandalous works.

 1924 Joins Bucharest avante-garde and Dada trends. 
   First personal exhibition.
   Met poet Ilarie Voronca ->,  with whom he founded the 75HP  magazine, and published 
   the manifesto The Pictopoetry and the article The Surrationalism.

 1925 - 1926 Trip to Paris, meets Constantin Brancusi; discovers Giorgio de Chirico.

 1928-1931 Contributor to Unu magazine.

 1930 Marries Margit Koschil and settles in Paris. 
   Neighbors with Alberto Giacometti and Yves Tanguy. 
   Meets Jacques Herold.

 1931 Self-portrait with enucleated eye a premonition of future accident.

 1932 Meets Andre Breton; joins Surrealists.

 1934 First Surrealist exhibition with 
  Mr. K's power of concentration  -> 
   and The strange case of Mr. K.
   Andre Breton wrote the introduction to the catalogue.
   One of the squares on Man Ray's chessboard.
   In Bucharest meets with Mary Low and Juan Brea (See ->).
   Cadavre Exquis with Jeannette Ducrocq, Andre Breton, Jacques Herold, 
   Yves Tanguy and Jeanette Tanguy.

 1935 Return to Bucharest, no money.
   Created the illustrations for Gelu Naum's -> poetry collection - "The Incendiary Traveler",
   and "The Freedom to Sleep on the Forehead".
   Included in the Surrealist exhibition in Tenerife partly organized by Oscar Dominguez.

 1936 Death of Margit.

 1936 - 1937 Joins communist party but leaves after Moscow trials. 
   Begins lifelong friendship with Leonor Fini.

 1938 Returns to Paris as Romanian political situation worsens.
   Meets Remedios Varo. 
   His brother Hari helps organise Carpathian tour for Lee Miller and Roland Penrose.
   Looses his eye from a glass thrown by Oscar Dominguez at Esteban Frances. 
   Meets his future wife Jaqueline Abraham.
   Leaves the surrealists.
   Introduces family friend Hedda Sterne to Jean Arp.

 1940 Flees Paris together with Pierre Malbille. He lived for a while in Perpignan, 
   at Robert Rius's, then at Cant-Blage (Eastern Pyrenees) and at Saint Feliu d'€™Amont, 
   where he was forcibly secluded. 
   He kept in touch with the Surrealists that had taken refuge in Marseille and hears of 
   Varian Fry'€™s center from an Oscar Dominguez letter. 
   Joins up with Peggy Guggenheim and the surrealists at Villa Air-Bel. 
   Participated in making cards for the Marseille Card Game together with  
   Andre Breton, Oscar Dominguez, Max Ernst, Jacques Herold, 
   Wifredo Lam,  Andre Masson, Jacqueline Lamba; and (Frederic Delanglade.

 1941 Settles in Villa Air-Bel then hospitalised in a Marseille clinic.

 1942 - 1945 Hides in small villages in Hautes-Alpes.

 1945 Returns to Paris, marries Jacqueline. 
   Created a series of paintings called "lycanthropic" or sometimes "chimeras"
   Jaqueline and himself holiday in Normandy  with Leonor Fini.

 1947 Provides original artwork for the catalogue of Le Surrealisme en 1947 
   or Please Touch at Galerie Maeght, Paris. 
   Where Conglomeros -> is in the Gallery Window.
   Sculpts Wolftable.

Larger ->
;
   Paints La Surrealiste.


Larger ->
.
   Friends with Wilhelm Freddie.

 1958? Watches Leonor Fini paint Vespertilia ->.

 1961 Traveled to Italy again. He settled in Varengeville.

 1964 Moves to Athanor.

 1966 d. March 12th. Paris.
   Epigraph: Peindre, c'est la vie, la vraie vie, ma vie. 
   ("Painting is life, the real life, my life"). 

   Bibliography
   Victor Brauner: Surrealist Hieroglyphs -> - Victor Brauner (2001).

   See work -> and web -> and article ->.
   "New" Discoveries ->.

   See Timeline