1904 b. May 11th. in Figueres. 
   Salvador Domingo Felipe Jacinto Dali i Domenech, 1st Marquis of Pubol 
   was a prominent Spanish Catalan surrealist painter; one of whose 
   inspirations was Giuseppe Arcimboldo.
   His father, Salvador Dali­ i Cusa, was a lawyer and notary whose strict disciplinary 
   approach was tempered by his wife, Felipa Domenech Ferrés.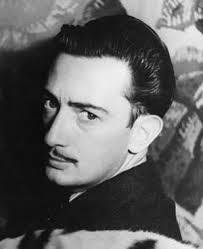 ==Early Years==
 1909 Taken to his brother's grave and told by his parents that he was his 
   brother's reincarnation; a concept which he came to believe.
   His childhood friends included future FC Barcelona footballers Sagibarba 
   and Josep Samitier. 
   During holidays at the Catalan resort of Cadaques, the trio played football together.
 1916 Dali discovered modern painting on a summer vacation to Cadaques 
   with the family of Ramon Pichot ->, 
   a local artist who made regular trips to Paris.

 1919 His first public exhibition at the Municipal Theater in Figueres.

==1920's==
 1921 Dali's mother died of breast cancer.

 1922 Moved to Madrid to study at the Academia de San Fernando (School of Fine Arts).
   Became close friends with (among others) Pepin Bello ->, Luis Bunuel, 
   Federico Garcia Lorca, Pedro Garfias, Eugenio Montes, and Maruja Mallo
   Suenos Noctambulos -> includes Maruja Mallo and Luis Bunuel.

 1923 Returned to Figueres, where he took up his classes again with Juan Núñez Fernández, 
   who instructed him in the technique of etching.

 1924 Illustrated  a publication of the Catalan poem "Les bruixes de Llers" 
   ("The Witches of Llers") by his friend and schoolmate, 
   the poet Carles Fages de Climent ->.
   Experimented with Dada.

 1925 Federico Garcia Lorca spent the holidays with Dali in Cadaques. 
   Figure at a Window   
   of his sister Ana Maria, seen from behind in front of a window at Cadaqués.
   One man show at the Dalmau gallery, Barcelona.

 1926 Expelled from the Academia. 
   Introduced to Pablo Picasso when they both exhibit in Barcelona.
   First visit to Paris.  
   Makes a number of works heavily influenced by Pablo Picasso and Joan Miro.
   His classical influences included Raphael ->, Bronzino ->,Zurbaran ->, Vermeer -> 
   and Velazquez ->.
   Influenced by Antonin Artaud's script The  Seashell and the Clergyman ->.
   Federico Garcia Lorca - 'An Ode to Salvador Dali'' Spanish ~> and English ~>.

 1927 Military service at Sant Ferran castle in Figueres. 
   With publication of the article San Sebastiana devoted to Federico Garcia Lorca, 
   there began Dali's regular and extensive collaboration with the vanguardist 
   journal L'Amic de les Arts until 1929.
   Painted Apparatus and Hand.

(
larger ~>
)
   One man show at the Dalmau gallery, Barcelona.

 1928 Designs for Elsa Schiaparelli.
   Exhibits in Christian Dior ->'s Galerie Jacques Bonjean in collaboration 
   with the writer Lluis Montanya -> and the art critic Sebastia Gasch ->.
   Issued the Manifest groc ~pdf in Catalan  - 
   a provocative broadsheet denouncing the provincial torpor of Catalan arts and letters.
   All the Barcelona galleries refuse to exhibit ''Unsatisfied Desires.

 1929 Collaborated with Luis Bunuel on the short film Un Chien Andalou.
   Summer in Cadaques where he received a visit from the gallery-owner Camille Goemans,
  Rene Magritte and his wife; Luis Bunuel, Paul Eluard and Gala and their daughter Cecile.
  Invited to Paris by Joan Miro. 
  Formally joined the Surrealists. 
  Remet with Pablo Picasso.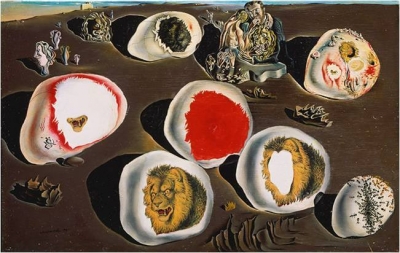 The Accomodations of Desire
. See
Larger ->
.
  Dec. Split with his father after painting "Sacred Heart of Jesus Christ", 

  With a provocative inscription, "Sometimes, I spit for fun on my mother's portrait''.  See larger ->.
    Returns to Paris with Gala and they stay in Paul Eluard's apartment.

==1930's==
 1930 March; Lecured at Ateneu, Barcelona
   Photographed with Tristan Tzara, Paul Eluard, Andre Breton, 
   Jean Arp, Yves Tanguy, Max Ernst, Rene Crevel, Man Ray.
   Contributed to Le Surrealisme au service de la revolution? 
   Published his book La femme visible  (The Visible Woman) with an advertising 
   flier by Andre Breton and Paul Eluard.
   Dali again collaborated with Luis Bunuel to make the film L'Age d'Or->.
   With Gala rented a small fisherman's cabin in a nearby bay at Port Lligat 
   which he then bought and over the years enlarged, gradually building his much 
   beloved villa by the sea.
   Etching for fronticepiece of Artine - Rene Char.

 1931 Painted one of his most famous works, The Persistence of Memory.  

larger ->
.
   Lectures at sala Capcir, Barcelona with Rene Crevel.

 1932 Provides etchings for Le Revolver a cheveux blancs - Andre Breton.

 1934 m. Gala in a civil ceremony. 
   Photographed by . 

   Introduced to America by art dealer Julien Levy. 
   With Gala attended a masquerade party in New York, hosted for them by heiress 
   Caresse Crosby, dressed as the Lindbergh baby and his kidnapper.
   The resulting uproar in the press was so great that Dali apologized. 
   When he returned to Paris, the Surrealists confronted him about his apology 
   for a surrealist act and was subjected to a "trial" in which he was formally 
   expelled from the Surrealist group. Signed by Andre Breton; Max Ernst, 
   Victor Brauner, Jacques Herold, Georges Hugnet, Meret Oppenheim, 
   Benjamin Peret and Yves Tanguy.
   A square in Man Ray's surrealist chessboard.

 1935 Illustrates Nuit partagees for Paul Eluard.
   Oct. with Gala visits Edward James at his rented villa in Ravello, near Amalfi.

 1936 Exhibited and spoke at the London International Surrealist Exhibition. 
   Signs contract with Edward James who is featured in his painting Swans Reflecting Elephants.      

Larger ->
.
   They also collaborated on the Lobster Telephone -> and the Mae West Lips Sofa ->.

 1937 February; met with the Marx Brothers -> in Hollywood.

 1938 January; exhibits in Exposition Internationale du Surrealisme? 
   at the Galerie Beaux-Arts, Paris; organizers Andre Breton, Marcel Duchamp. 
   He made the costumes for Helene Vanel's opening night dances. 
   Meets Sigmund Freud in London. 

 1939 Andre Breton coined the derogatory nickname Avida Dollars.

==1940's==
 1940 as World War II started in Europe, Dali­ and Gala moved to the United States.

 1941 Dali drafted a film scenario for Jean Gabin -> called Moontide. 

 1942 Published his autobiography The Secret Life of Salvador Dali­ ->. 

 1944 Wrote a novel about a fashion salon for automobiles. 

 1945 Designed the dream sequence for Alfred Hitchcock's  Spellbound ->.

 1947 An Italian friar, Gabriele Maria Berardi, claimed to have performed 
  an exorcism on Dali­ while he was in France 
  (In 2005 a sculpture of Christ on the Cross was discovered in the friar's estate. 
  It had been claimed that Dali­ gave this work to his exorcist out of gratitude).

 1949 Dali spent his remaining years back in his beloved Catalonia.

==1950's and later==
 1958? Remarried Gala in a Catholic ceremony.
   visited by Shuzo Takiguchi.

 1954 Painted Young Virgin Autosodomized by her Own Chastity ~> See Explanation ~>. 
   The painting is a return to the 1925 picture of hi sister Anna Maria.

 1959 Shown in Andre Breton's exhibition Hommage to Surrealism.

 1963 Works with Veruschka. See here ->, and here ->.

 1965 First meets Amanda Lear ->.

 1968 Filmed a television advertisement for Lanvin chocolates.

 1969? Designed the Chupa Chups logo.
    Meets Carlos Lozano who becomes his protege and life long friend and biographer ->. 

 1982 Created Marquis of Pubol in the nobility of Spain.

 1982 Death of Gala.

 1989 d. Jan. 23rd. at Figueres

  See work -> and also -> and also ->. 
  John Peter Moore, Ex Private Secretary of Salvador Dali Interview from  1998 ->.

  Bibliography
  The Shameful Life of Salvador Dali -> -€" Ian Gibson (1998)
  Sex, Surrealism, Dali and Me: The Memoirs of Carlos Lozano -> - Clifford Thurlow.

  See Timeline