1924 b. Sept 8th? as Marie Parent in Montreal, Canada. 
   Her father was an architect.
   French Canadian Surrealist Painter and creator of objects
   She studied art at the Ecole des Beaux-Arts. 

 1942 - 1947 Studied at the studio of Alfred Pellan, in Montreal.

 1947 First solo exhibition at the Dominion Gallery in Montreal.
   She met and married the artist Jean Benoit 
   Formed the short-lived Prisme d'Yeux, an organisation of Quebec artists,
   with Pellan and Benoit.
   Expelled from Art School.
   Played Cadavre Exquis.

 1948 Moved to Paris.

 1959 Officially joined the surrealists in Paris 
   Organizer of the hall devoted to fetishism at the EROS (Exposition 
   inteRnatiOnale du Surrealisme) held in Paris. 
   For this exhibition she designed both the poster and the catalogue.
   On 2 December, two weeks before the exhibition was to open, Benoit performed 
   a piece entitled The Execution of the Testament of the Marquis de Sade at the 
   apartment of the Surrealist poet Joyce Mansour. 
   Masculin/Feminin

larger ->
 1960 Exhibited surrealist exhibitions in Milan and "Surrealist Intrusion 
   into the Enchanter's Domain"; New York in November which was the last show 
   organised by Andre Breton and Marcel Duchamp.

 1965 Andre Breton reprinted the preface to one of her solo shows in his 
   book Surrealism and Painting.

 1966 She had a solo exhibition at the Maya gallery in Brussels. 
   Illustrated texts by Guy Cabanel, Pierre Dhainaut and Jose Pierre.
   Met Penelope Rosemont. 
   Was involved in nearly daily meetings with Nicole Espagnol, Joyce Mansour, 
   Elisa Breton and Toyen.

 1967 Sao Paolo.

 1968 Czechoslovakia.

 1978? Exhibited at "Surrealism Unlimited", organized by Conroy Maddox 
   at Camden Art Centre in London.

 1996? Maitresse ("Mistress")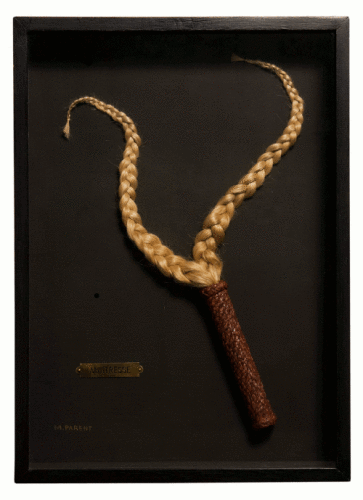 larger ->

 2005? d. June 14th. Villars-sur-Ollon, Switzerland.

   See  and obituary -> and another ->.

   See Timeline

   "Mimi Parent was one of the most vibrant and provocative of post-World War II 
   Surrealists," says Alyce Mahon, who discusses Parent's work in her 
   book Surrealism and the Politics of Eros, 1938-1968 ->." See video ->.