1891 b. April 2nd in Bruhl, Germany 
   German - French - Painter - Poet - Sculptor -Collagist
   ''The 2nd of April at 9.45 a.m Max Ernst had his first contact with the 
   sensible world, when he came out 
   of the egg which his mother had laid in an eagle's nest and which the bird had 
   brooded for seven years.'' 
   (Some data on the Youth of M.E. as told by himself View #2 no 1 Special 
   Ernst Issue 1942). 

   Theoretician of Surrealism from its foundation. 
   Inventor of collage and the frottage as well as Loplop, the Superior of the 
   Birds; (quite possibly inspired
   by figures in The Garden of Earthly Delights by Hieronymus Bosch.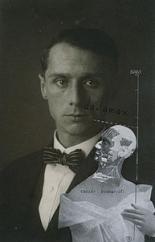 ==1920's== 
 ==1930's== 
 ==1940's== 
 ==1950's== 
 ==Later Years== 

 1910 Met August Macke.

 1912 Cologne Sonderbund Exhibit. 
    He became acquainted with the Hans Richter and the Blaue Reiter -> 
    group, Guillaume Apollinaire, Robert Delaunay, George Grosz and 
    Wieland Herzfelde -> as 

well as (Hans) Jean Arp.
 1913 meets Louise Straus at University of Bonn. 
    Traveled to Paris.

 1914 - 1918 drafted into the Artillery. 
    Fought on the Western front. 
    Refused his Iron Cross first class for his two injuries.

 1916 Fought at Verdun -> as did his future closest friend 
    Paul Eluard on the other side.

 1918 Founder of Cologne Dada Group formed with Jean Arp and 
    Tristan Tzara  and Johannes Theodor Baargeld.
    m. Louise Straus. 

 1919 visited Paul Klee -> and created paintings, 
    block prints and collages, and experimented with mixed media.

  ==1920's== 
 1920 June; birth of son Jimmy Ernst.
    Visited by Kurt Schwitters and recipricates visit later in the year.
    April; Publication in Cologne, of the Dada review Die Schammade 
    created by himself and Johannes Theodor Baargeld with whom he organizes 
    the first Cologne Dada exhibition.

 1921 In Tarrenz-bei-Imst with his wife Lou, Tristan Tzara, 
    Andre Breton, and Greta Knutson
    May; Vernissage for his first paris exhibition prepared by Louis Aragon, 
    Andre Breton and Simone Kahn
    Birds; also: Birds, Fish-Snake and Scarecrow ->.
    Sept. Meets Andre Breton; 
    Invited to Imst by Tristan Tzara.
    Oct; In Cologne, visited by Paul Eluard and Gala.

 1922 Summer holiday with near Tarrenz with Louise and 
    Jimmy, joined by Paul Eluard, Gala, Tristan Tzara 
    and Hans Arp and Sophie Taeuber.
    Starts affair with Gala.
    Sept. 2nd. Arrived in Paris, using Paul Eluard's passport which he had 
    mailed to him. 
    Adopted name "Jean Paris" with papers falsified for him by Jean Paulhan. 
    Paints . 
    Painting At The Rendezvous of Friends (large version).

    Andre Breton, Rene Crevel, Fyodor Dostoevsky , Theodor Fraenkel, Jean Paulhan,  
    Benjamin Peret, Johannes Theodor Baargeld, Robert Desnos, 
    Philippe Soupault, Jean Arp, Max Morise, Raffaele Sanzio, 
    Paul Eluard, Louis Aragon, Giorgio Di Chirico, Gala.

 1923 Painting Men Shall Know Nothing of This ->. 

 1924 Meets Roland Penrose.

 1924 - 1927 lived in a menage a trois with Gala and 
    Paul Eluard travelling with them to Indochina. 

 1925 Signed the Declaration of January 27 1925. 
    Met Henri Michaux
    Visits Cologne staying with Lou and Jimmy. 
    Sells canvases to Mutter Ey.
    Collaborates with Paul Eluard on the book Au Defaut du silence 
    a hommage to Gala.
    One edition had manuscripts by Gala and Rene Crevel and original 
    drawings by Ernst and Giorgio de Chirico.
    June; Part of the riot at the Saint-Pol Roux? banquet.

 1926 Collaborated with Joan Miro on designs for Sergei Diaghilev's 
    Russian ballet; which earns a formal Protestation from Andre Breton 
    and Louis Aragon.

    "The Virgin Chastises the Infant Jesus with Three Witnesses" 
    Ernst, Andre Breton + Paul Eluard.

 1927 m. Marie Berthe Aurenche which inspired "The Kiss" -> 
    and other works the same year.
    Fight with Paul Eluard.
    Meets Rene Magritte.
    Signs Manifesto Hands Off Love in defense of Charlie Chaplin ->.

 1928 Feb; Fifth Session of Investigating Sex : Maxime Alexandre, 
   Andre Breton, [Marcel Duhamel]], Max Ernst, M, Marcel Noll, 
   Benjamin Peret, Jacques Prevert, Raymond Queneau, 
   [Georges Sadoul]], Pierre Unik.
   Meets Luis Bunuel.

 1929 Book of collages La femme de 100 tetes (pdf ->

 ==1930's== 
 1930 Film Le Age d'Or with Salvador Dali and Luis Bunuel.

    Portrait of Andre Breton, a possible Collaboration with Marie Berthe Aurenche.

 1931 Max, Marie Berthe and Valentine Hugo take a trip to the Midi.
    Affair with Leonor Fini
    Loplop Introduces Loplop .
    Contributed to Le Surrealisme au service de la revolution?.
    Contributes reproductions of frottages to Kay Boyle's translation of 
    Rene Crevel's Mr Knife, Miss Fork; part of his book Babylon.
    Meets Jean Helion -> (who later married Pegeen -> 
    daughter of Peggy Guggenheim and Laurence Vail).

 1932 Cover design for Les Vases communicants - Andre Breton. 

 1933 Introduces Joseph Breitenbach to Andre Breton.
     Travels to Italy for a creative residency at the Palazzo de Vigoleno.

 1934 Collaboration with Alberto Giacometti. 
    Befriends Richard Oelze. 
    Affair with Meret Oppenheim.
    Publishes a graphic novel Une Semaine de Bonte; See Images > and also ~>.
    Brief affair with Lotte Lenya.

 1935 Designs the dust jacket for David Gascoyne's 
   A Short Survey of Surrealism.

 1936 Visits London together with Leonor Fini for the 
    International Surrealist Exhibition.
    Nov. Joint exhibition with Leonor Fini in Julien Levy's 
    New York Gallery.

 1937 Autobiographical writings published in a special edition of 
    Cahiers d'art.
    Meets and starts affair with Leonora Carrington.
    Holiday on the Fal river in Cornwall. Max Ernst, Man Ray, Henry Moore,
    Irina Radetsky, Eileen Agar, Leonora Carrington and 
    Paul Eluard, Roland Penrose, Lee Miller, Nusch, 
    Ady Fidelin, Edouard Mesens, Joseph Bard. 
    Carrington's parents try to influence the authorities to issue an arrest 
    warrant for Max on charges of exhibiting pornographic paintings.
    Paints Ocell de Foc or The Triumph of Surrealism.

    and Der Hausengel ->.

 1938 January; exhibits in Exposition Internationale du Surrealisme? at 
    the Galerie Beaux-Arts, Paris; organized by Andre Breton and
    Marcel Duchamp.  
    Jimmy leaves for America via Paris.
    Peggy Guggenheim acquired a number of his works and displayed them in her 
    London museum.
    Ernst and Leonora moved to Saint-Martin d'Ardeche north of Avignon. Map ~>. 
    She inspired  The Robing of the Bride.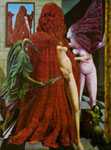 (Larger)
.
    June; visited by Roland Penrose and Lee Miller and also 
    Peggy Guggenheim; and Leonor Fini with Mandiargues and 
    Federico Veneziano? and Tristan Tzara. 

 1939 Leonora Carrington publishes La Dame ovale with reproductions 
    of his collages.
    Sept; Internment at Largentiere and Les Milles ->.
    Freed at Christmas thanks to the intervention of Paul Eluard.

 ==1940's==
 1940 May; Internment again in Camp des Milles ehere he is together with 
    Hans Bellmer. 
    This was the same camp as Fritz Meyerhoff -> and Tadeus Riechstein.
    Returned to St. Martin Ardeche and finds a note from Carrington stating that 
    she has gone to Extremadura. 
    Continues painting.
    Kay Sage asks Peggy Guggenheim to finance his passage to America. 
    Guggenheim buys all his sculptures from the farm.
    Dec; arrives Marseille.     

  1941 Participated in making cards for the Marseille Card Game at 
    Villa Air-Bel together with  Andre Breton, Oscar Dominguez, 
    Victor Brauner, Jacques Herold, Wifredo Lam, Andre Masson, 
    Jacqueline Lamba; (Frederic Delanglade not used).
    April starts affair with Peggy Guggenheim who had just purchased 
    all of his paintings.
    Jimmy Ernst suggests that he offers to remarry Louise Straus so that 
    she can obtain entry into America.
    May 1st. Crossed Spanish border by train with assistance of CAS. 
    Stays in Estoril with Peggy and her ex husband Laurence Vail and his wife 
    Kay Boyle and their assorted children.
    Arrived New York and met up with his son Jimmy Ernst.

 1942 m. Peggy Guggenheim in New York. 
    Met Dorothea Tanning.
    New York Friends Marcel Duchamp, Marc Chagall, David Hare, 
    Andre Breton. 
    Meets Sonja Sekula.
    Becomes friends with Claude Levi-Strauss.
    Special Ernst Edition of View #2 no 1.
    John Cage and his wife stay with Ernst and Peggy in New York.

 1943 Juror for Exhibition by 31 Women at Peggy Guggenheim's 
    Art of this Century.

 1944 Starts Sculpting. 
    Plays chess with the young Robert Motherwell in the East Hamptons.

 1946 m. Dorothea Tanning in a joint wedding with Man Ray and Juliet Browner.
    Lived in Sedona, Arizona.

 1947 Provides original artwork for the catalogue of Le Surrealisme en 1947 or 
    Please Touch at Galerie Maeght, Paris. 

    The King Playing with the Queen

 1949 Returned to France.

 ==1950's==
 1950 Published a lithograph for Joe Bousquet and Michel Tapie? 
    who had both commented on his earlier works.
 1953 He and Tanning moved to a small town in the south of France where he 
    continued to work. 
    Around this time Lee Miller took a picture of him and Dorothy Tanning ->.
    The City, and the Galeries Nationales du Grand-Palais in Paris published a 
    complete catalogue of his works.
    Satrap in the College of Pataphysics
    Max and Dorothea Tanning at Farley Farm for Christmas. 
    Present Lee Miller, Roland Penrose, Antony Penrose, 
    Diane Deriaz, Dominique Eluard, Caroline Eluard, 
    Valentine Penrose, Timmie OBrian, Terry OBrian, Patsy Murray, 
    Paula Murray, James Dugan.

 1955 Settled in Touraine. 

 1958? Became a French citizen.


 ==Later Years== 
 1961 Together with Pablo Picasso and Joan Miro arranged an auction of 
   paintings to help Georges Bataille with his financial difficulties.

 1963 He and his wife Dorothea Tanning moved to the southern French town 
   of Seillans. (Map ~>. 

 1968 Designs set for the Paris Opera premiere of Turangalila choreographed by Roland Petit ->.

 1975? Retrospective at the Solomon R. Guggenheim Museum in New York.    

 1976 d. April 1st. Paris.

   See Paintings ->

   Bibliography
   Max Ernst Life and Work - Werner Spies (2006). 
   Max Ernst, 1891-1976: Beyond Painting - Ulrich Bischoff (2004). 
   Max Ernst: Sculptures (Italian Edition) (1996). 
    A Not-so-still-life - Jimmy Ernst (1984). 
    Max Ernst and Alchemy - ME Warlick (2001). 
    Surrealism desire unbound - Jennifer Mundy. 


   See Timeline