1901? Oct. 2nd. b. Chatillon-sur-Seine, Cote d'Or as Alice Ernestine Prin. 
    She became better known as Kiki de Montparnasse.  
   French artists' model, nightclub singer, actress?, memoirist, painter.
    An illegitimate child, she was raised in abject poverty by her grandmother. 

 1913 Sent to live with her mother in Paris in order to find work. 
    She first worked in shops and bakeries.

 1915 Aged fourteen, she was posing nude for sculptors, which created discord 
    with her mother. 
    She posed for dozens of artists, including: Chaim Soutine ->, Julian Mandel ->,  Maurice Utrillo ->,
    Foujita, Pascin, Francis Picabia, Jean Cocteau, Arno Breker ->, 
    Alexander Calder, Per Krohg ->, Hermine David ->, 
    Pablo Gargallo ->, Eileen Mayo ->, and  Tono Salazar ->. 
    One of Moise Kisling's -> best known portrait's was of Kiki titled Nu assis ->.
    She appeared in nine short and often experimental films, including Fernand Leger's 
    Ballet mecanique without any credit.

 1918 Fell in love with Polish painter Maurice Mendjizky.

 1921 Dec. moves in with Man Ray shortly after meeting him. 
    She became the subject of some of his best-known images including the    
    Le Violin d'Ingres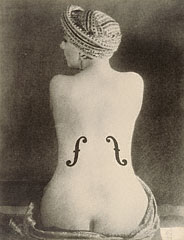 and also Noire et Blanche.

Larger
.
 1922 Became best friends with Therese Maure (Therese Trieze).  
    Nancy Cunard frequently socialized with her and Man Ray.

 1923 June; midnight at the Dome with Therese Trieze?, Man Ray and Marcel Duchamp. 
    July; with Man Ray holidays at Normandy villa with Peggy Guggenheim's 
    and her husband Laurence Vail
    Argued with Man Ray and went briefly went to New York with Mike 
    an American journalist from St. Louis.

 1923 Nov. The Jockey opened. Kiki became the main attraction.
 1924 Djuna Barnes described Kiki for an American magazine, "Charm". 

 1927 Sold-out exhibition at the Galerie au Sacre du Printemps in Paris.

 1929 Her autobiography was published as Kiki's Memoirs with Ernest Hemingway? 
    and Foujita providing the introduction. 

 1929 Broke up with Man Ray and moved in with Henri Broca.
    She was declared the Queen of Montparnasse. 
    Painted by Sava Sumanovic ->.

 1930 Her autobiograph was translated by Samuel Putnam and published by Edward Titus's Black Manikin Press,
    but it was immediately banned by the United States government. Until 1996?. 
    For a few years during the 1930's, she owned a Montparnasse cabaret, 
    which she named Chez Kiki.

 1940 June;  She left Paris to avoid the occupying German army and she never 
    returned as a resident.

 1953 d. April 29 in Sanary-sur-Mer, France at the age of fifty-one, apparently 
    of complications of alcoholism or drug dependence. 

    Among her many friends were Tristan Tzara and Robert Desnos.

    See IMDB -> and  Video and Works of and by Kiki.

    See Timeline