1906 b. July 25th. Saint-Gilles, Belgium to a circus family. 
   Belgian Writer and Poet. 
   Her poetry was published under the pen name Irine, and she appeared as Lorrie 
   in the writings of her husband, Louis Scutenaire, and the works of Rene Magritte.

 1922 Attended Business school; worked as a seretary and became a militant socialist.

 1925  She wrote her first poem, Metallique. 
    Affair with painter Marc Eemans.
    became involved with the burgeoning Belgian surrealist group forming around 
    Rene Magritte, Louis Scutenaire, Marcel Marien, and Paul Nouge. 

 1929 Models for Rene Magritte.

 1930 m. Louis Scutenaire visited Paris and Spain.
    In Brussels. Irene and Louis attended the meetings of the surrealist group in 
    Brussels, with Paul Nouge, the brothers Magritte, the musician Andre Souris, 
    Marcel Lecomte, Edouard Mesens, Paul Colinet, and Marcel Marien.

 1931 Began her career as a civil servant at the International Court of justice.

 1936 Portrait painted by Rene Magritte.

 1940 They leave Brussels with Rene Magritte, Agui and Raoul Ubac. 
    Became separated in Paris; reunited in Carcassonne where they meet Joe Bousquet, 
    Jean Paulhan, Andre Gide and Gaston Gallimard?.

 1945 Contributes to Public Safety, The Blue Sky and ''The Earth is 
    Not a Vale of Tears'' which feature photos by  Marcel Marien.

 1953 Collaborated on "Mixed Temps," created by Andre Blavier (Fr). ->  and Jane Graverol.
    Published Boulevard Jacqmain in which various Belgian Surrealists appear as characters

1953 Photographed with Marcel Marien, Camille Goemans, Gerard Van Bruaene, Georgette Magritte,
    ELT Mesens, Louis Scutenaire, Rene Magritte and Paul Colinet.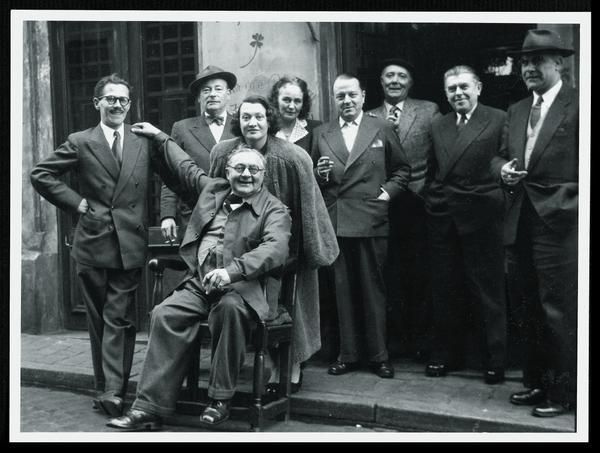 1987? Death of  Scutenaire.
    She published her recollections of their life together as Ma vie avec Scut. 
    Some of their correspondences with Andre Bosmans ->, Paul Nouge, and Marcel Marien 
    are published in The Naked Lips.

 1994? d. May 17th. in Watermael-Boitsfort.
    Scutenaire and Hamoir lived surrounded by around one-hundred of Magritte'€™s 
    works, and these were given in legacy to the Royal Museums of Fine Art of Belgium 
    after Irene'€™s death.

    See wiki -> and Bio ->.

    See Timeline