1902 b. March 13th in Katowice, Silesia, Poland.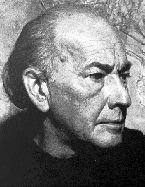 1911 Family moves to Karsruhle.

 1921 Enrolls in technical school in Berlin, his father resists his artistic vocation. 

 1924-1927 Joins Berlin artistic Bohemia, works with John Heartfield 
    and George Grosz. Works as typographer and review designer. 
    Visits Paris, marries Margaret Schnell.

 1920 - 1930 Return to figuration without completely giving up abstraction. 
    Frequent travels including Berlin.

 1925 Illustrates cover of The Tigress ~> for Walter Serner.

 1930 His muse -> is his 15 year old cousin Ursula Naguschewski, who moved to Berlin from Kassel.

 1931 Return to Paris befriends Kandinsky ->.

 1932 Visits Italy and Tunisia.

 1933 Builds first articulated doll with the help of his brother Fritz.

 1934 Sends photo of doll to Naguschewski who is at the Sorbonne to give to Andre Breton. 
    Dec. 5th. Eighteen doll photographs published in Minotaure.

 1935 Bellmer visited Paris meeting Andre Breton, Paul Eluard,  Henri Parisot ->, 
    and Robert Valencay ->.

 1936 Writes prose poem Die Puppe translated by Robert Valencay. 
    One doll photo published in Julien Levy's surrealism
    Second doll photos published.

 1937 Leaves for France. Returns to graphic work and€" prints. Book bound by Georges Hugnet.
    Gisele Prassinos dedicates a poem to him.

 1938 Jan. Exhibits in Exposition Internationale du Surrealisme? at the Galerie 
    Beaux-Arts, Paris; organizers Andre Breton, Marcel Duchamp 
    Death of Margaret Schnell. 
    Joined the surrealist group. 
    Moved to Paris meets Marcel Duchamp, Max Ernst, Man Ray [[Yves Tanguy? 
    and Lizica Codreano with whom he has an affair. 
    Paul Eluard writes poems for 14 of the doll photos.
    Meets Andre Pieyre de Mandiargues.
    Introduced by Georges Hugnet to Joyce Reeves (secretary to Roland Penrose).

 1939 Illustrates book for Georges Hugnet; 
    Designs typeography for Roland Penrose for the cover of The Road is Wider than Long ->.
    Travels to Marseilles with Reeves and then to Les Angles. 
    Sept. 3 Internment at Camp des Milles, Aix en Provence. 
    Max Ernst interned October . Ferdinand Springer in November.

 1940 Seeks refuge in the home of Camille Canonge in Castres, on to Marseilles 
    to join Andre Breton's group. 
    Meets Oscar Dominguez.

 1941 Returns to Castres. Meets Alsatian Marcelle Sutter.

 1942 m. Marcelle Sutter.

 1943 Birth of twin daughters Doriane and Beatrice. 

 1944 Moves between Jean Brun and Jean Robert in Revel; and Herta Hausmann 
   and Auguste Fuchs in Castres and Joe Bousquet in Carcassone. 
   Exhibits at bookshop of Silvio Trentin in Toulouse.

 1945 Writes to Tristan Tzara.
   Separates from Marcelle Sutter. 
   Joe Bousquet writes poem inspired by doll. 
   Alain Gheerbrant asks him to illustrate Histoire de lâ'Oeil? for Lord Auch 
   (aka Georges Bataille) and introduces him in 

 1946 to the Bulgarian poet Nora Mitrani ; together they write the 
   anagrammatic poem Rose au coeur violet. 
   They move to Toulouse and he introduces her to his friend Joe Bousquet.

 1947 Provides original artwork for the catalogue of Le Surrealisme en 1947 
   or Please Touch at Galerie Maeght, Paris. 

 1948 Provides the frontispiece for  Au crible de la nuit Jehan Mayoux.
   Breaks up with Nora Mitrani.

 1949 Les Jeux de la poupee (The Games of the Doll) finally published 
   (started [1938]]) with illustrations by Paul Eluard, Georges Hugnet 
   helped with the translation.

 1953 Meets Unica Zurn in Berlin.

 1954 She joins him in Paris.

 1955 Illustration for Joyce Mansour Julius Cesar.

 1958? Series of photos of Unica tied up ->.

 1965 Publishes an edition of Georges Bataille's Mme Edwarda -> with engravings from 1955.

 1975? Feb.24th. d. Paris.

   See web -> and Hans Bellmer in The Art Institute of Chicago ->.  
   See Dolls -> and also (pdf) -> and wiki ->.

   See Tmeline?