1889? b. Nov 1st. Anna Therese Johanne Hoch in Gotha, Germany. 
     German Collagist
     A pioneer of the art form that became known as photomontage.

  1915 Graphics class of Emil Orlik at the National Institute of the Museum of 
     Arts and Crafts
     Starts affair with Raoul Hausmann.

  1916 Part-time job in the editorial department of the handiwork division at 
     Ullstein Verlang ->.  designing dress and embroidery patterns.

  1919 Involvement with the Berlin Dada Group.
     Cut with the kitchen knife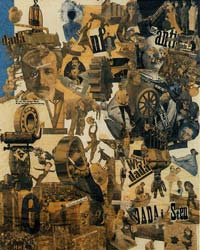 larger ->
.
     Da Dandy ~> 

  1922 Breaks with Hausmann.

  1926 - 1929 Lived and worked in the Netherlands.
     Friendship with Kurt Schwitters and Piet Mondrian ~>.

     Love ->.
     With the Dutch writer and linguist Til Brugman ->.
     Moved to Den hague.

  1929 Hannah and Til Moved to Berlin
     Exhibited 18 of her photos in the Film and Photo -> exhibition. 

  1935 Separated from Til. Met Kurt Matthies

  1938 m. businessman and pianist Kurt Matthies.

  1939 Moved to Heiligensee, a suburb of Berlin.

  1942 Separated from Matthies.

  1945 Picture Book -> (not published until 1985?).

  1958? Photographed with Hans Richter, Juliet Man-Ray, 
     Frida Richter, and Man Ray. 

  1978? d. May 31st. in Berlin.  

     See wiki -> and work -> and also -> and    also ->.

     The Quiet Girl with a Big Voice  (Part I) ->, and  Pt II  ->.

     See In the Life of Hannah Hoch -> and bio -> and  Cut With Kitchen Knife (doc) ->.
     See also Weimer Art Blogspot ->.
     See Gender ~> and Livejournal ~> and Elusive Muse ~>.

     Bibliography
     The Photomontages of Hannah Hoch -> (1996).

     See Timeline