1884? b. June 19th. in Montpellier 
    French  Writer and Painter 
    associated with the Dada movement.
    In addition to numerous early paintings, Ribemont-Dessaignes wrote plays, 
    poetry, manifestos and opera librettos. 
    He contributed to the Dada (and later surrealist) periodical Litterature.
    The son of a keen amateur painter, he was trained in Paris at the Ecole des Beaux-Arts and 
    at the Academie Julian.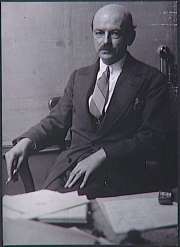 1909 Met Raymond Duchamp-Villon ->, through whom he became acquainted with the Puteaux group, 
   which included Fernand Leger, Jean Metzinger -> and Albert Gleizes ->.

 1911 Met and befriended Francis Picabia.

 1915 Silence

Larger ->
.
 1916 Play The Emperor of China. 

 1919 Play The Mute Canary. 

 1920 Began to produce mechanomorphic paintings influenced by Francis Picabia.
    Feb. Appeared onstage for a Dada presentation with Andre Breton, Tristan Tzara 
    and Louis Aragon at Leo Poldes' Club du Faubourg.
    May; exhibition at the library du Sans Pareil
    Contributes to Projecteur - Celine Arnauld.
    Pictured with Paul Chadourne, Tristan Tzara, Philippe Soupault, Serge Charchoune, Jacques Rigaut, 
    and Marie-Louise Soupault.
    Often painted on the back of earlier works, such as the Great Musician 
    which was owned by Andre Breton.

 1921 Collaborated on the Dada journal 391 and soon became an important 
    figure in Parisian Dada.
    He also contributed to Dada, Mecano and Proverbe.
    June; Soiree Dada. Coeur a  Gaz by Tristan Tzara, performed by Louis Aragon,  Tzara, 
    Philippe Soupault, Georges Ribemont-Dessaignes, Theodor Fraenkel and Benjamin Peret.

 1922 Collaborates on first edition ''La Coeur a barbe'.

 1923 Soiree du Coeur a  barbe.

 1924 Opera libretto The Knife's Tears with music by composer Bohuslav Martinu ->. 
    Novel L'Autruche aux yeux clos.  

 1925 Novel Ariane.

 1926 Novel Celeste Ugolin  inspired by Alfred Jarry and with thinly veiled 
    descriptions of other members of the surrealist and Dadaist groups.

 1927 Le Bar du lendemain.  

 1934 Novel Monsieur Jean ou l'Amour absolu.

 1949 Working for Radiodiffusion Francaise. 
    Remet Andre Breton to try and persuade him to take part in a radio interview.

 1974? d. July 9th. Saint-Jeannet, Midi.

    See wiki Fr -> and Resource.

    See Timeline