1903 b. Nov 27th In Brussels;   
   Edouard Leon Theodore commonly known as ELT Mesens.  
   Belgian Musician, Poet, Collagist, publisher, and Art Dealer. 
   "The Morse-man"
   His mother originated in Lille  and his father was a general storekeeper then 
   wholesale grocer from Brabant.

   I was born the twenty-seventh of November nineteen hundred and three without god, 
   without master, without king AND WITHOUT RIGHTS.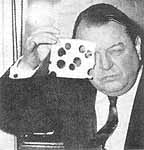 ==1930's==
 ==1940's==
 ==Later Life==

 1919 Enters  the Academy of Brussels.
   Started his artistic career as a musician (influenced by Erik Satie and an 
   author of dadaist poems).

 1920 Meets Rene Magritte and the poet Pierre Bourgeois ->. 

 1921 Introduces himself to Erik Satie who, in Paris in december 
   introduces him to the dadaists. 
   He meets Tristan Tzara, Georges Ribemont-Dessaignes, Philippe Soupault, 
   Man Ray and Kiki, Marcel Duchamp and Constantin Brancusi. 
   Influenced by Francis Picabia and the paintings of Giorgio de Chirico.
   He became a friend and champion of Rene Magritte and a highly active figure 
   in the Surrealist movement, more as an organizer than an artist. 

 1923 meets Ernest Hemmingway ->.
   Soiree du Coeur a  barbe?.

 1924 Oct. Collaborates with Rene Magritte and Tristan Tzara to 
   produce Periode.

 1925 Meets Louis Aragon and Andre Breton, Paul Eluard, 
   Francis Picabia, 
   March; With Rene Magritte published the periodical ''Oesophage" featuring 
   Jean Arp, Max Ernst, Georges Ribemont-Dessaignes, Francis Picabia, 
   Kurt Schwitters, Tristan Tzara, Pierre de Massot and I.K. Bonset 
   (Theo van Doesburg).

 1926 A Surrealist group in Belgium forms; 
   Camille Goemans, Rene Magritte, Paul Nouge and E.L.T. Mesens, 
   and, a bit later, Marcel Marien, later joined by two musicians, 
   Paul Hooreman and Andre Souris.
   His journal Marie in June and July published Rene Magritte alongside 
   Marcel Lecomte.

 1929 Collage Norine -> (Norine van Hecke)

 ==1930's==
 1933 Edited the collected work  bringing together 
   Andre Breton, Rene Char, Salvador Dali, Max Ernst, Jean Arp , 
   Paul Eluard, Maurice Henry, Benjamin Peret, Yves Tanguy, 
   Victor Brauner and Alberto Giacometti. See ->.

 1934 Organized the first Surrealist exhibition in Belgium - 
   Exposition Minotaure.

   Standing from left to right: 
   Mesens, Rene Magritte, Louis Scutenaire, Andre Souris, Paul Nouge.
   Sitting from left to right: 
   Irene Hamoir, Marthe Beauvoisin, Georgette Magritte. 

   Meets with Mary Low and Juan Brea on their visit to Brussels.

 1935 Helped organise the International Surrealist Exhibition in London 
   the following year.
   The Committee : Paul Eluard, Andre Breton, Man Ray, Edouard Mesens, 
   Henry Moore, Herbert Read, Humphrey Jennings, Paul Nash, 
   Hugh Sykes Davies, Stanley William Hayter, David Gascoyne, 
   Roland Penrose.
   British artists: Eileen Agar, Robert Melville, Conroy Maddox. 
   Works with Irene Hamoir.

 1937 Holidays on The Fal River, Cornwall with Max Ernst, Man Ray, 
   Henry Moore, Irina Radetsky, Eileen Agar, Leonora Carrington 
   Paul Eluard, Roland Penrose, Lee Miller, Nusch, Joseph Bard, 
   Ady Fidelin, . 

 1938 - 1940 with Roland Penrose edits The London Bulletin which 
   ran for twenty issues.

 1938 Jan; exhibits in Exposition Internationale du Surrealisme? at the 
   Galerie Beaux-Arts, Paris; 
   organizers Andre Breton, Marcel Duchamp.  
   Settled in London becoming director of the London Gallery in Cork Street with 
   Roland Penrose. This became the headquarters of Surrealism in England; 
   Organized exhibitions for Max Ernst, Kurt Schwitters, Paul Delvaux 
   and Yves Tanguy.

 ==1940's==
 1940 Meets Sybil Stevenson who becomes his wife.
   With Roland Penrose expelled Grace Pailthorpe and Reuben Mednikoff 
   from the British Surrealists Group.

 1941 Bochym, Cornwall. (see Map ~>).
   Valentine Penrose joins him and Sybil.

 1944 Published in Fulcrum ~>.

 1945  for Marcel Duchamp's Band / LA PARTITION COMPLÈTE COMPLÉTÉE 

 1946 Met and befriended George Melly. 
   Included in Free unions - Unions libres. Editor Simon Watson Taylor.

 1947 Co-founded ICA -> in London with Roland Penrose, Herbert Reed?, 
   Peter Watson and Geoffrey Grigson.

 1948 menage a trois sharing his wife Sybil with George Melly (See article ->) 
   who now works for him in his gallery.

 ==Later Life==
 1950's He returned to Belgium. 
   In his own work as an artist he was best known for his collages.

 1953 March; photograph at Le café La Fleur (55 rue des Alexiens 1000 Bruxelles.
   L-R Marcel Marien Camille Goemans, Gerard Van Bruaene, Irene Hamoir, Georgette Magritte, 
   E.L.T. Mesens, Louis Scutenaire, Rene Magritte and Paul Colinet.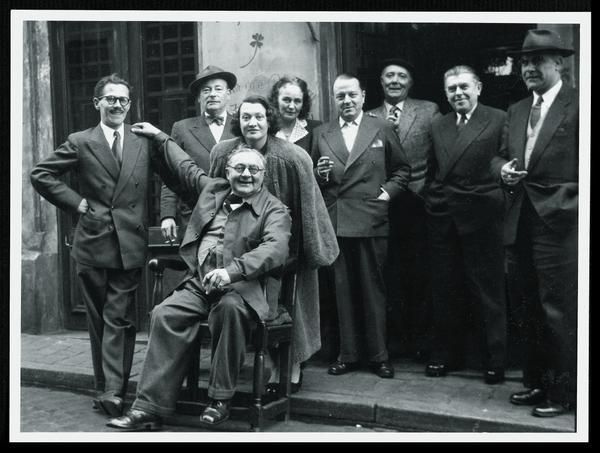 1971? d. May 13th. in Brussels

   Bibliography
   Don't Tell Sybil: An Intimate Memoir of E.L.T. Mesens -> - George Melly (1997). 

   See Dada Joker in the Surrealist Pack -> and Bio  -> and wiki (Fr. ->.
   Papers -> Getty Research Institute, Los Angeles.
   Mesens on Pinterest ->

   See Timeline