1907 b. November 22nd.  in Paris as Henriette Theodora Markovitch.
   French Photographer Painter Model and Muse
   Her father, Joseph Markovich, was a Croat architect, possibly Jewish; famous for 
   his work in South America; 
   Her mother, Julie Voisin, was from Touraine, France, and Maar grew up in Argentina. 

 ==1930's==
 ==1940's== 
 ==Later Life==   

 1910 Family moved to Buenos Aires. 
   She was fluent in French, Spanish and English.

 1926 Family moved back to Paris.
   Studied painting at the Ecole des Arts Decoratifs, Ecole de Photographie and Acadamie Julien.
   Lessons on painting with Andre Lhote and was a fellow student of Henri Cartier-Bresson.
   Shortened her name to Dora Maar. Starts lifelong friendship with fellow student Jacquline Lamba?.
   During this period she modelled for a number of photographers.  
   She approached Man Ray to be his assistant and was turned down. 
   Received a technical diploma from Ecole de Photographie de la Ville de Paris. 

 ==1930's==
 1930 Set up as a professional with Pierre Kefer whose parents financed a photographic 
   studio for him in the garden of their house in Neuilly. 
   Shared a darkroom with Brassai.
   Introduced by Marcel Zahar to -> Emmanuel Sougez  whom she would always regard as her mentor.

 1931 First commission; photographing Mont-Saint-Michel for -> Germain Bazin.

 1932 Affair with Louis Chavance.

 1933 Briefly a member of Masses as was Georges Bataille with whom she had an affair. 
    Introduced to Andre Breton and suggests Café de la Place Branche to Jacquline Lamba?
    as a good place to meet people involved in the Surrealist group.

 1934 Kefer - Maar studio closed. 
   February 10th. Signed manifesto for Appel a la Lutte; (-> see).
   Travelled to Spain and England studying street life in London and Barcelona 
   and the Catalan fishing village Tossa del Mar
   On return set up her own studio at 29 rue d'Astorg (financed by her father).
   October; article about her work with Kefer by Jacques Guenne writing in L'Art Vivant 
   Series of Nudes of Assia Granatouroff published in magazines such as Secrets de Paris, 
   Le Figaro Illustre, and Beautes. 
   Her good friends were Georges Bataille and his wife Silvia Makles, 
   Paul Eluard and Nusch, Jacqueline Lamba and Andre Breton, Jacques Prevert,
   Rene Crevel, Jean-Louis Barrault and Lise Deharme.

 1935 first met Marie-Laure de Noailles and photographed Christian Berard ->. 
    Helped by Louis Chavance, and Jacques Prevert, she was hired to do the stills 
    for Jean Renoir's Le Crime de Monsieur Lange.
    Joined the short-lived anti-fascist revolutionary movement Contre Attaque 
    founded by Georges Bataille.
    Collage Jeux Inderdits ~>. 

 1936 January Paul Eluard introduced her to Pablo Picasso on the terrace 
    of the Cafe les Deux Magots
    A conversation with her and Picasso inspires Meret Oppenheim's Fur-lined 
    Teacup, Saucer and Spoon.
    Exhibited Portrait of Ubu at the London International Surrealist Exhibition.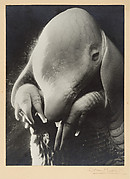 larger ->
    Summer in St Tropez and Mougins - photo -> of Sonia Mosse and Picasso.
    Photographs -> her friend Leonor Fini.

 1937 Produced important documentary evidence by photographing the stages in 
    the production of Guernica.
    She had her first photography exhibition at the Galerie de Beaune in Paris.
    At Picasso´s insistance she returned to painting.
    That summer Rosemonde Wilms posed ~> for her in Pablo Picasso's room at the Hotel 
    Vaste Horizon in Mougins.

 ==1940's==
 1941 Picasso's Dora Maar au Chat ->. 

 1943 First solo exhibition of painting at the galleries of Jean Bucher.

 1944 After the split with Picasso she withdrew from public life.  He left her a 
    drawing from 1915 as a goodbye gift ; it represents Max Jacob, his close 
   friend who had just died in the transit camp of Drancy after his arrest by the Nazis. 
    He also left to her some still lifes and a house at Menerbes  in Provence.

 1945 She suffered a breakdown. 
    Picasso's personal physician Jacques Lacan helped have her committed and she 
    underwent shock therapy.

 1945 exhibited at Pierre Loeb 
    "After Picasso, God." 

  ==Later Life==
 1950's close friendship with James Lord. 
   Befriended Alice B Toklas.
   Retreated into Catholic mysticism, becoming even more of a recluse than before

 1997? July 16th. d. Paris.

    She died intestate and all her belongings and work was sold.

    Bibliography
    -> Dora Maar - With and without Picasso: A Biography -> - Mary Ann Caws (2000). 

    See work -> and more ->.
    La petite mélancolie ~>.
    Unpublished photographs~>

  See Timeline